The Tenth Tibetan Terrier World Congress was held in Morecambe, England in August, 2007 with participants from 16 countries. Following the 2 days of meetings and discussions of TT issues were a day and a half of performance demonstrations, a "fun" show and a serious Championship Show. The next World Congress will be held in Austria in 2009.
The 30th Tibetan Terrier Club National Specialty was held May 28 - June 1, 2007 in Owensboro, KY. Lancaster, PA. There were classes in conformation, obedience, rally and agility as well as a day of educational programs, the annual TTCA Board meeting and the TTCA Annual general meeting. The 31sr Specialty will be held in NY in March, 2008.
KATHMANDU CURRENT NEWS AND BRAGS
Congratulations to my current star, Sneakers, shown below. Officially known as Kathmandu's Dkyar (Dkyar means "snowshoe" in Tibetan), he has 16 points, including 1 major, all from the Bred By Exhibitor classes. He won Best Junior Dog at the Futurity (Breeder Sweepstakes) at the 2007 Specialty under former breeder Phyllis "Jeannie" Helton and won enough cash to pay the gas for our trip! He then went on to take 2nd in Bred By Dog, losing first to the dog who ultimately went Winners' Dog, under Jean Fournier.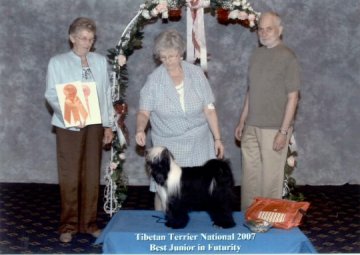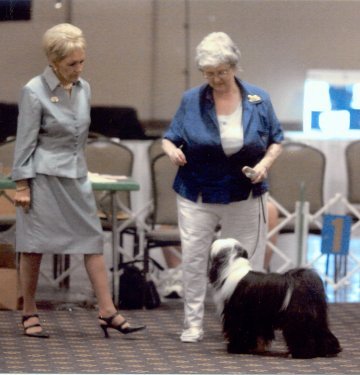 Congratulations also to Sneakers' grandmother Liz and uncle Burly pictured below. Liz (CH. Kiara Kathmandu's Show Biz Liz, CD, ROM, V), just short of 14 years old, came out of a 6 year retirement to participate in the first Rally event ever held at a TT Specialty. Neither of us had been to a Rally class - but I wanted to support this event judged by TT owner and Obedience Judge Ginger Kinion. Liz came out with a qualifying score for her first leg! Sadly I lost her in October to rapidly spreading cancer. She is shown here with her son, Kathmandu's Lord Burlington, CD, RA who also competed in Open Obedience and completed his Rally Advanced title. Burly is owned by Jan and Fred Schroeder of Duluth, MN.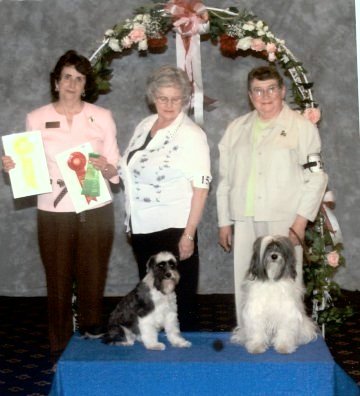 Congratulations to Martha Schwartzmann and Kathmandu's Tiny Treasure, CD, RAE. "Mini" became the very first RAE titled Tibetan Terrier at the Merced, CA Gold Rush Cluster the weekend of April 7-8, 2007. The requirement for this title in Rally events is similar to the OTCH in obedience in that it requires 10 multiple qualifying scores in the two highest levels of competition after completing the Novice, Advanced and Excellent titles. Per the AKC regulations, "In order to receive the RAE title, a dog must qualify ten (10) times in both the Rally Advanced B Class and the Rally Excellent B Class at the same trial. The RAE title will appear at the end of the dog's name and a numeric designation will indicate the number of times the dog has met RAE requirements, i.e. RAE2, RAE3, etc."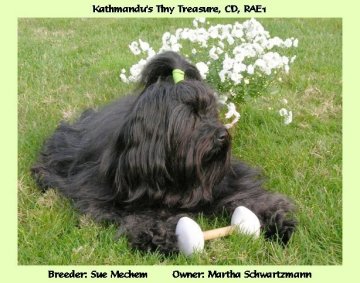 MORE BRAGS

Pictures of and information about other recently winning Kathmandu Kids can be found here (lots of pictures which slows down the loading of the page).