Historic Visit by His Holiness, the Dalai Lama
By "Red" Redshaw, PFOT Secretary
as printed in the Pittsburgh Friends of Tibet Newsletter (Sue Mechem, Editor)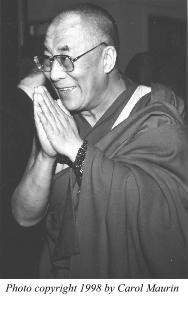 On November 12, 1998, a long time dream of Pittsburgh Friends of Tibet came to fruition when His Holiness the 14th Dalai Lama visited Pittsburgh for the first time.
After several years of laying groundwork and then ten months of intense planning, several PFOT repre-sentatives were able to officially welcome His Holiness to the area as he concluded a one-day engagement at Seton Hill College in Greensburg, PA on the evening of November 11.
The day in Pittsburgh began at 8:30 a.m. with a teaching on the Heart Sutra in the magnificent setting of Heinz Hall. Local members of the Three Rivers Dharma Center (TRDC) had prepared the stage by setting up a traditional Tibetan Buddhist alter, which was complimented by numerous fresh flower arrangements and a backdrop of Tibetan prayer flags. An armchair for His Holiness, covered by a Tibetan brocade, was set in the center of the stage directly in front of the alter. After initial greetings by TRDC representatives Deborah Draper and John Bogaard, His Holiness took his seat, flanked on either side by a semi circle of his junior monks and entourage, plus ordained American monks and nuns from several Buddhist traditions.
With over 2600 people in attendance, His Holiness delivered an eloquent teaching on the Heart Sutra, considered to be one of the most central of the Buddhist texts and also one of the most challenging to comprehend. The audience included both local Buddhist practitioners and followers who had traveled quite a distance to hear him speak, as well as many other spiritual seekers and human rights supporters. His simple and clear commentary on this ancient text explaining the Buddhist concept of "emptiness" held deep meaning for those Buddhists in attendance, but was also easily understood by the non-Buddhists in the audience. He ended the teaching with a brief question and answer period, giving guidance on such practical matters as balancing spiritual practice with the challenges of raising a family and living in our fast-paced world. To a final questioner asking what message he would like the audience to take with them from his visit to Pittsburgh, he replied emphatically, "Be good human beings!"
Following the Heinz Hall event, the World Affairs Council of Pittsburgh sponsored a special luncheon honoring His Holiness as a Nobel laureate and leader of a
people in exile. Held at Pittsburgh's DoubleTree Hotel, the luncheon brought together a mix of local business leaders, politicians, Buddhist practitioners and human rights activists. The hotel's ballroom was packed with the 900 guests who had paid to attend the luncheon, some from as far as Alaska, and an additional 100 people who sat in a remote viewing area adjacent to the ballroom.
Dr. Robert Thurman of Columbia University introduced His Holiness to the audience, speaking in his characteristic spirited and engaging style, delivering an impressive fifteen-minute talk on the historical back-ground of Buddhism, Tibet, and the lineage of Dalai Lamas and their meaning to the Tibetan people. His Holiness then addressed the luncheon crowd, speaking first of the need for individuals to develop compassion to improve conditions in the world, and then commenting on the contributions which the ancient Tibetan Buddhist culture can make to present day societies.
It had been anticipated that His Holiness might use his American visit to respond to Chinese President Jiang Zemin's overture toward dialogue made last June during President Clinton's visit to China. But Chinese disapproval of his U.S. tour and its scheduled meetings with U.S. officials caused His Holiness to reconsider, saying that it was not the proper time to seek a public reconciliation or make a public declaration without prior consultation with Chinese leadership. Thus, during the question and answer period at the luncheon, His Holiness politely side-stepped numerous direct questions about Tibetan relations with China. However, he was clear to point out that the short sighted Chinese policies of using torture, arrests and violence to subdue Tibetans was clearly wrong and would not lead, as the Chinese believed, to stability. And he reiterated his willingness to accept Chinese rule, and even give up his position of leadership, if Tibetans were granted genuine autonomy and the right to preserve their culture and religion.
The final event of this historic day was held at Soldiers and Sailors Memorial Hall, where His Holiness gave a public talk entitled "Challenges and Ethics for the Next Millennium" to benefit the Tibet Fund. Addressing a sold out audience of students and general public, he outlined several global challenges that we face as a human family as we near the 21st century: over population, environmental degradation, and the continuing violation of human rights around the world. He stressed the importance of developing a good heart, so that these mutual problems can be solved from the basis of compassion. And he encouraged us as Americans to seek a simpler existence rather than a constantly expanding economy, and to share our wealth with those who are less fortunate.
His characteristic humor, peaceful presence and open-hearted speaking style made the auditorium filled with 2400 people seem like an intimate gathering. Speaking in a building that is a memorial to war, from a stage with a backdrop of the Gettysburg Address, this man of peace charmed young and old alike with his simple message of the need for each individual to develop human compassion and caring. This would inevitably lead, he said, to an understanding of the interdependent, interconnected nature of our coexistence on this planet.
After answering a few questions from the audience, he was presented with a gift from the Organizing Committee and other friends and supporters – a tree dedicated in his name at Pittsurgh's Phipp's Conservatory and Botanical Gardens. He then made his final bows to the audience and left the stage, still turning to wave goodnight as the stage door through which he had been escorted closed behind him.
PFOT would like to give special acknowledgment to Jay and Vicky Stokes, founding members of PFOT whose years of hard work and dedication made the possibility of bringing His Holiness to Pittsburgh a reality. Many thanks are due also to Rinchen Dharlo of the Tibet Fund and Dawa Tsering of the Office of Tibet for their invaluable assistance in planning the various aspects of the visit. And of course, we are deeply grateful to His Holiness for accepting our invitation, and to the many volunteers whose hard work and commitment helped to create an extremely successful event.